Benefits of Partnering with Global Squirrels as Your EOR Provider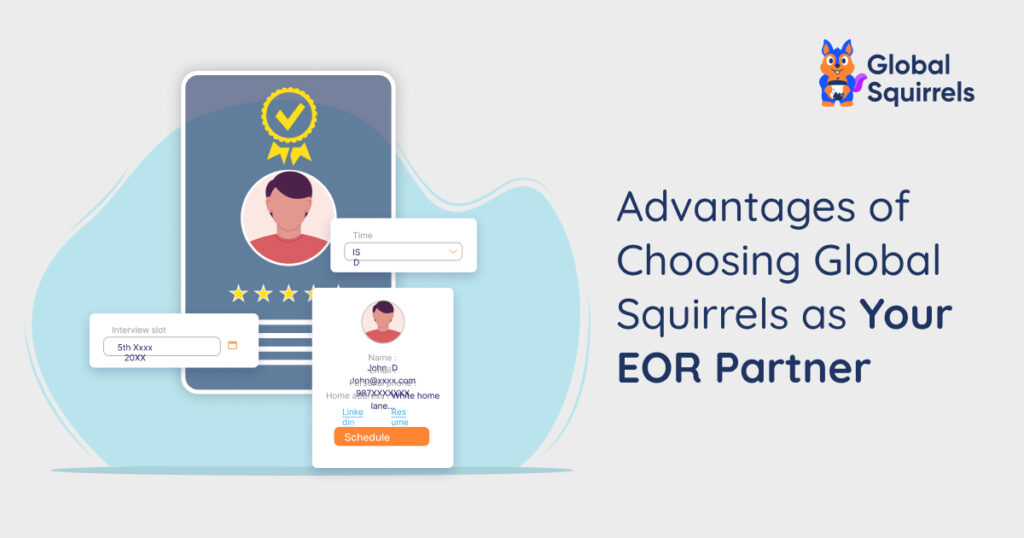 Global Squirrels EOR partner program benefits businesses of all sizes that are increasingly exploring global expansion. As companies look to establish a presence in new international markets, they encounter a host of challenges, particularly in navigating complex international employment laws, compliance regulations, and payroll requirements.
While traditional EOR platforms are widely known, a unique and innovative option has emerged – the use of Global Squirrels as your trusted partner for Global Employer of Records. In this blog post, we'll take a look at the benefits of using the Global Squirrels Employer of record platform, so that you can make an informed decision about whether it is the right choice for your business.
10 Benefits of Partnering with Global Squirrels EOR Platform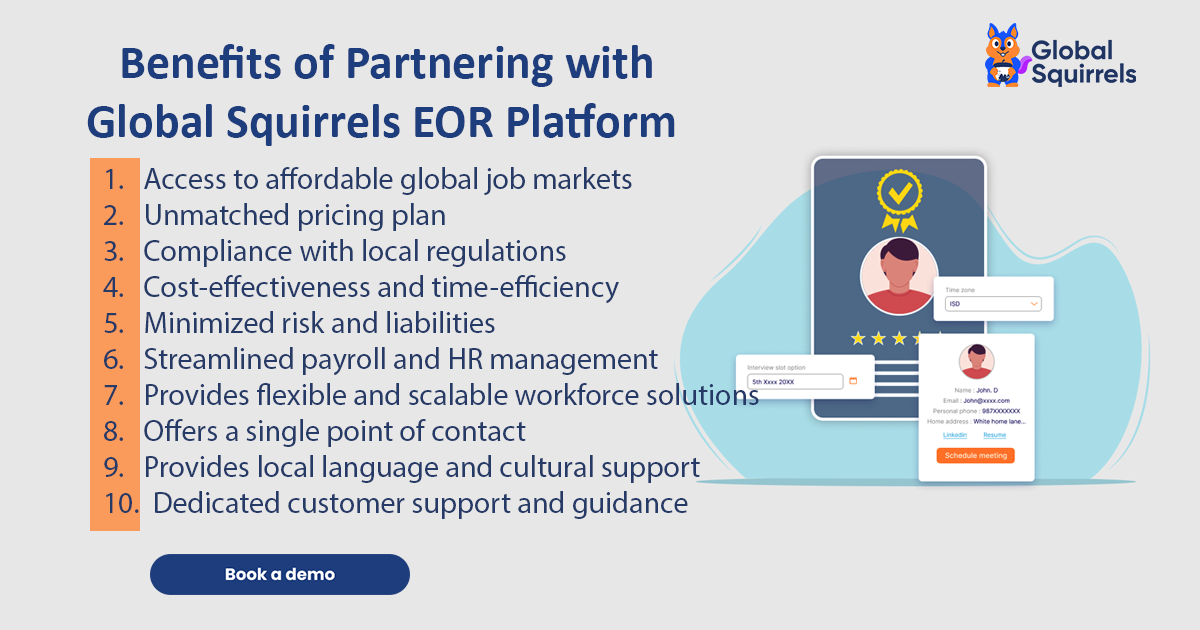 1. Access to affordable global job markets
2. Unmatched pricing plan
3. Compliance with local regulations
4. Cost-effectiveness and time-efficiency
5. Minimized risk and liabilities
6. Streamlined payroll and HR management
7. Provides flexible and scalable workforce solutions
8. Offers a single point of contact for international employment
9. Provides local language and cultural support
10. Dedicated customer support and guidance
1. Access to affordable global job markets
Global Squirrels have a well-established presence in numerous international markets, facilitating accelerated market entry.
Leverage their existing network, local partnerships, and extensive knowledge for a swift and efficient start to operations.
Benefit from their experience in navigating diverse business landscapes, reducing the need to start from scratch.
Tap into a wide range of affordable labor markets, including India, Mexico, Philippines, Pakistan, Sri Lanka, Bangladesh, Nepal, and more.
2. Unmatched pricing plan
Having an EOR partner that encompasses comprehensive global employment services such as PEO, EOR, and recruitment services is truly remarkable. Our service pricing plans not only deliver efficiency but also offer cost-effectiveness, providing substantial advantages over numerous alternatives.
Recruitment services
Contrary to other Employer of Records available in the market, Global Squirrels empowers businesses to discover the perfect talent in various countries effortlessly.
When comparing many recruitment agencies, the cost of hiring international full-time employees with us proves to be far more affordable.
Instead of the conventional 10-20% of the employee's first annual salary, we charge a mere one-time recruitment fee of $1499. This is saving you a substantial amount, which could otherwise be around $10,000 to $50,000.
Hiring contractors will cost you just a $499 one-time recruitment fee.
PEO/EOR/Payrolling services
Global Squirrels offers EOR and PEO services at a transparent pricing of $199 per month, with no cancellation fees or hidden charges..
Explore Global Squirrels pricing plan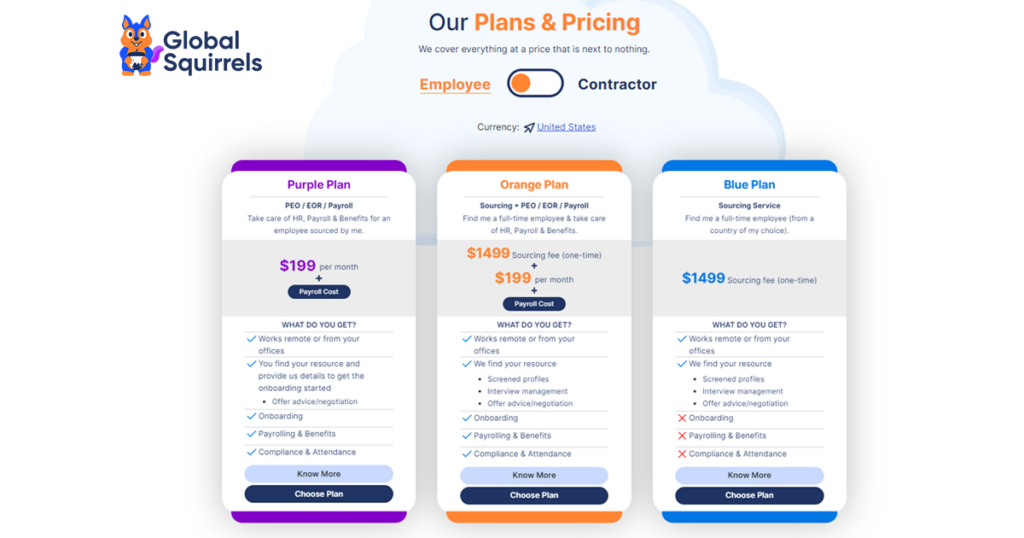 3.Compliance with local regulations
One of the most significant advantages of working with Global Squirrels is their comprehensive knowledge of local employment laws, taxation regulations, and compliance requirements across multiple jurisdictions. When entering a new international market, businesses must navigate a labyrinth of legal complexities. With Global Squirrels as your EOR, you can rest assured that your workforce will be compliant, avoiding costly penalties and legal issues.
4. Cost-effectiveness and time-efficiency
Operating as an employer in multiple countries can be costly, considering the expenses related to establishing legal entities, setting up HR departments, and maintaining compliance. Global Squirrels offer a cost-effective solution, as they can leverage their existing infrastructure and expertise to manage multiple operations, resulting in significant savings for your company. With our assistance, the global expansion process becomes significantly faster as we streamline and eliminate many steps involved in establishing a system in new countries.
5. Minimized risk and liabilities
Expanding into new markets can expose businesses to unfamiliar risks and legal liabilities. By partnering with Global Squirrels, your organization transfers the legal responsibilities associated with hiring and employing workers in foreign countries, reducing your exposure to potential risks and ensuring peace of mind throughout the expansion process.
6. Streamlined payroll and HR management
Streamlining global payroll management in multiple countries considering the different tax systems, social security contributions, and reporting requirements. Global Squirrels take charge of the entire payroll process, ensuring accurate and timely payments to employees, along with compliance with local tax authorities. This frees up valuable time and resources for your core business operations.
Global Squirrels handle all aspects of HR administration, from onboarding new hires to managing employee benefits and handling employee-related issues. This includes managing contracts, coordinating employee benefits, time and attendance management, and facilitating employee termination processes, allowing your company to focus on strategic business objectives.
7. Flexible and scalable workforce solutions
Global Squirrels offer scalable workforce solutions tailored to your business needs, whether you require some employees or an entire team. This flexibility is particularly beneficial for companies engaged in short-term projects or testing new markets before making long-term commitments. Our highly cost-effective plans enable businesses to achieve flexibility and scalability in both permanent and temporary workforce solutions.
8. Offers a single point of contact for international employment
Utilizing Global Squirrels' EOR platform avoids dealing with multiple contacts, payroll vendors, hiring agencies, and third-party partners for international hiring.
Acts as a single point of contact for all global employment matters, streamlining tasks and responsibilities.
With a single point of contact, complexities from managing multiple entities are minimized, leading to smoother global workforce management.
The centralized EOR platform fosters clear and effective collaboration among client companies, employees, and the EOR provider.
Ensures consistency in HR policies, benefits administration, and compliance across multiple international locations.
9. Provides local language and cultural support
Our EOR platform offers comprehensive local language and cultural support to facilitate seamless communication and collaboration between global teams.
Cultural understanding and sensitivity are integrated into our platform, fostering a harmonious work environment and promoting cross-cultural collaboration.
Leverage our expert local language and cultural support to elevate employee engagement, morale, and productivity in your international operations. Experience the difference today!
With our EOR platform, businesses can bridge linguistic and cultural gaps, leading to better relationships with local stakeholders and improved business outcomes.
10. Dedicated customer support and guidance
Our EOR platform offers personalized and attentive customer support, ensuring all your queries and concerns are addressed promptly and effectively.
Benefit from the expertise of our experienced team, providing valuable guidance and insights throughout your global expansion journey.
From onboarding to compliance, our EOR platform offers seamless assistance at every stage, ensuring a smooth and successful experience.
Count on our EOR platform to proactively identify and resolve potential issues, minimizing disruptions to your international operations.
How to get started with Global Squirrels as your EOR?
If you're ready to take advantage of the many benefits of using Global Squirrels as your Employer of Record platform, getting started is easy.
First, you can schedule a free demo with one of our experts. During this call, we'll discuss your needs and answer any questions you may have about how our platform works and what services we provide. We'll also explain our pricing structure and help you choose the plan that's right for your business.
Skip the demo call: If you are ready to jumpstart your global employment journey without a demo call, you can directly register as an employer here.
Upon registration, swiftly submit your request for international talent and build a diverse, skilled workforce effortlessly. Empower your business now!
We'll work with you to onboard your employees onto our platform. This process typically includes setting up payroll and benefits, ensuring compliance with local regulations, and getting your team up to speed on how to use our platform for HR management.
Throughout the entire process, our dedicated support team will be there to assist you with any questions or issues you may have.
By choosing Global Squirrels as your Employer of Record platform, you'll have access to the expertise and resources you need to expand your business globally and manage your HR and payroll functions with ease.
Be confident in our expertise that your international workforce is well-managed and compliant!