9 Best Practices Managing Remote Teams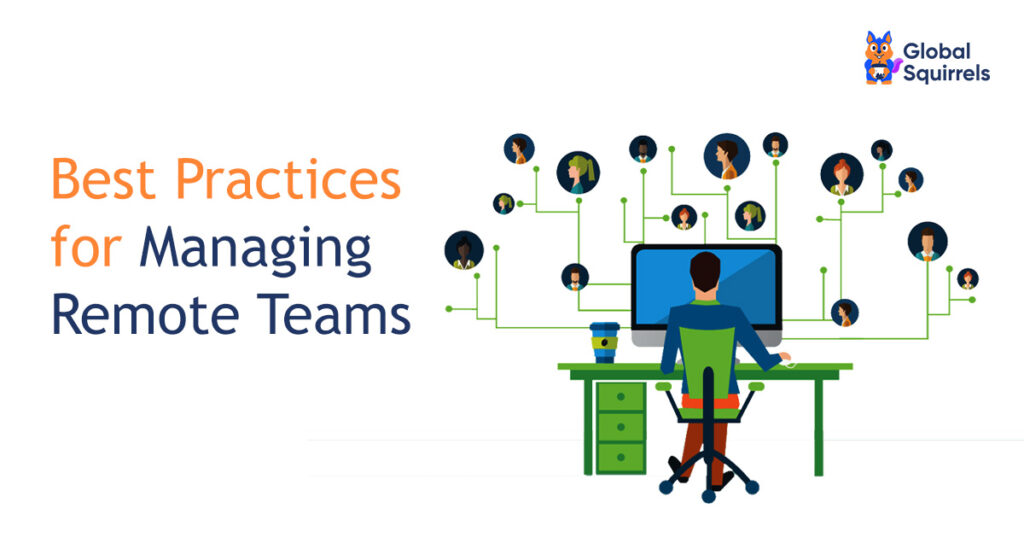 Several companies started leveraging and managing remote teams to experience diverse work dynamics. Which can help improve functional and technical expertise, structure business strategies, meet knowledge gaps, and a lot more.
A geographically dispersed workforce brings stiff challenges for managers to develop and manage remote employees across the border effectively. In this blog we have shared best practices for managing remote teams for better business productivity and workforce collaborations.
9 Tips for managing remote teams
1. Strong team communication
Communicate effectively with remote workers to avoid misunderstandings and encourage feedback on projects and administrative issues. Regular interactions build inclusivity and improve remote team performance.
Your remote workers will not feel strange remaining away and working autonomously if you employ good communication techniques. Value all meeting participants' ideas and thoughts regardless of their experience or position.
2. Trust your teams, know your teams
International teams will work their best when they feel they are trusted by other team members, managers, and leaders of the organization. This feeling of trust will lead them to accept constructive criticisms, honest feedback, and alternative suggestions to improve their output dynamics.
They will achieve the level of honesty and solid morale to discuss anything with managers and with others. Initiate informal conversation and know your teams deeply to develop a healthy bond with the whole team. Even though they are working physically away from your eyesight, trust your team in the progress. Set expectations on their outputs rather than putting restrictions on their process of working. Manage team on the foundation of strong trust and give liberty in the approaches they take to deliver the results.
3. Consistent 1 on 1 meetings with managers and team members
Scheduling team communications are not merely enough when it is not easy to give equal priority to individuals in big team meetings. So, keep short and frequent 1 on 1 meetings with your remote workers to understand them in deep and initiate private conversations. The personal perspectives, ideas, problems, and other valuable inputs which they were reluctant to share while having the meeting with seniors, managers, and any other level of employees in the jeopardy of getting judged and confronting their opposing opinions. These 1 on 1 meetings are a vital part of effective communication with the team and among the team to build great connections.
4. Understand and address cultural differences
When you are dealing with remote workforces from different countries, you should consider the cultural diversity of the team to avoid hurting their sensitive beliefs. Employees will be from different personal backgrounds, religions, ethics, and beliefs. During formal meetings, give a few minutes to discuss local culture and how it matters to them to get rid of hitting stumbling blocks.
Carefully handle this dimension of international team building, otherwise, your team may feel disrespected sometimes based on any controversial opinions. But don't hang up on this and instead try to train the new work culture and follow common etiquette that works for all your teams. Convert all your communication mediums to one common language and do not encourage the usage of native languages or minority languages.
Check our article: Cultural Difference Between India and USA 
5. Implement effective communication tools
Thanks to technology! Numerous communication tools now enable real-time conversation, facilitating remote collaboration across distances
Virtual communication modes like video calls, text chats, team conferences, voice calls, business calls, team messaging, file sharing, etc., should be integrated with full-fledged communication tools. Investing in such team management tools is not included in the additional overhead cost of business while it will empower the way to communicate effectively with team members.
6. Make resources accessible to the whole team
Promote various resources among team members which can improve their productivity, help them in feeling better mentally at work, update their technical and personal skills, train them in language proficiency, assist them in getting familiarized with new technologies and tools, and anything required in managing remotely.
Create documentation and make sure that your entire team is getting the same knowledge and work strategies. It will enhance learning job responsibilities and workflow quickly and support them in relying less on colleagues and team leaders. Emphasis on highly motivated virtual team building.
7. Structure teams with regional leaders
Hire leadership person who stays and works closely with your remote team at their place in their time zone to interlace the path for a single-window communication regarding important tasks. You should find someone whom you can trust in the work progress and who can be realistic regarding team performance to succeed in the projects with proper coordination.
You can entrust and delegate your works which are prioritized and have to work closely with teams to get it done in the forecasted timeframe. This person will bridge any language or communication gaps between you and your remote team.
Identify someone very keenly to assign such a big responsibility of managing remote employees, if not, it can lead to miscommunication and later disputes.
8. Set goals and expectations crystal clear
Ensure team knows project goals and expectations for remote management. The timeline for the tasks, priorities of work, goals to achieve, project milestones, and transparent communication with your team.
Give clear guidelines and goals for project implementation. It will give them a clear vision and energy to work without procrastinating or brainstorming with lots of tasks.
Be transparent and realistic with work strategies to your team members. This can inspire them to set personal goals by understanding the team goals and project priority.
9. Be flexible and empathetic
Understand that your remote team comprises employees with different work styles and expertise in different areas of projects. Allow flexibility in task structure for time-bound assignments.
Unless the way they work is not impacting on the quality of results and allotted timeline. Normalize giving them the freedom to focus on their style of work. This gesture of flexibility will give the employees feel a healthy work environment. They will strive happily to provide the best outputs.
Be empathetic and guide them if they struggle in a project. Also, need to guide them in structuring the task management in future projects.
More tips managing remote teams
10. Provide the best workspace for your remote teams
The work environment is a paramount influence on the individuals' productivity level. Make sure that your team is working away from uncomfortable ambiances of noises. Also, distractions, lower network connectivity, and everything which can adversely affect work effectiveness.
Ensure your team has a suitable workplace with basic amenities for efficient work. Remember, people who work in the best work environment, deliver great results for you!