Pricing of PEO/EOR Payroll Platforms – All You Need to Know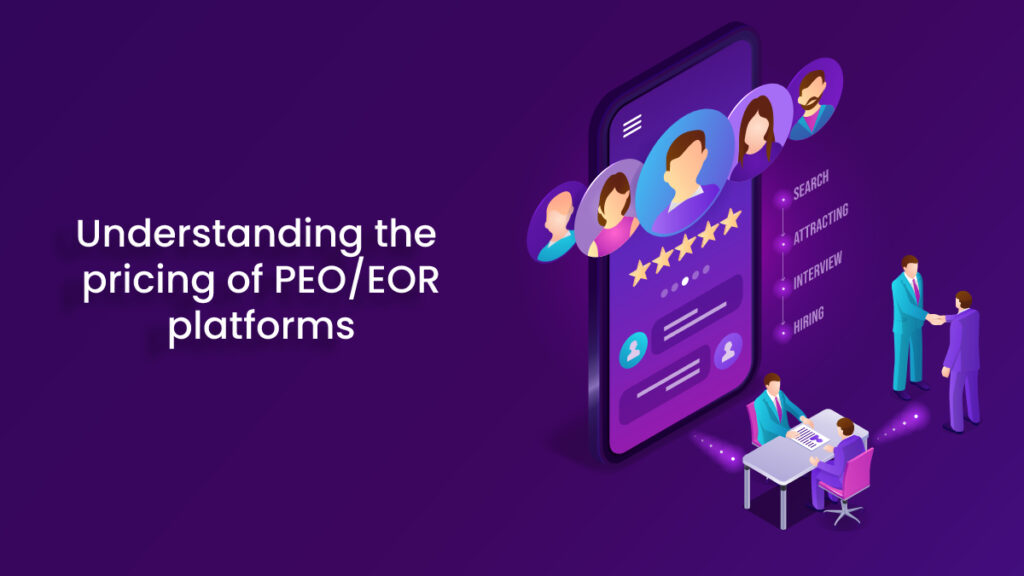 Let the boundaries fade, all we need is a matching skill for an open job. From the last few years, it has become evident that companies are not restricting themselves to a particular region, they are ready to go anywhere for the skill set they are looking for. Though going global can save companies a lot of money, the road might pose a lot of hurdles.
For those who want to cross borders and establish their presence in foreign countries, the ride isn't going to be as smooth as you wish. To overcome such hurdles, many companies have started depending on PEO/EOR platforms like Global Squirrels. These global hiring/payroll platforms act as local employers who on behalf of companies hire people and manage their payroll, benefits and compliance. This allows companies to focus on meatier business aspects, rather than focusing on minutiae works related to employee recruitment and management.
Understanding the pricing of PEO/EOR platforms
Nothing is free in this world; everything comes at a price. Every PEO/EOR platform charges a definite price for handling all your international recruitment activities. Companies must understand the pricing structure of PEO/EOR platforms before they enter into any sort of agreement with professional employment organizations. At present, there are more than 500 PEO/EOR companies in the USA that offer similar employment services for companies who are willing to expand their horizons across the countries.
To avoid future discrepancies, it is recommended for companies choose their EOR partner carefully. Of all the criteria, most companies choose their EOR partner based on the pricing and the range of services. These two factors play a crucial role in the long run and save companies from huge costs and multi-tool chaos. This article helps you understand the most essential criteria for choosing a PEO/EOR partner, which is pricing.
In one or the other way, every EOR company falls into these two pricing methods,
1) Monthly Fixed Price for Each Employee
2) A Fixed Percentage Over Monthly Payroll Cost
Let's discuss above-mentioned pricing methods in detail –
1. Monthly fixed price on each employee
This method is perhaps the most followed pricing method in the PEO/EOR industry. Companies have to pay a fixed price on each employee at the beginning/middle/end of every month for availing payroll services. This pricing method is clearer and more transparent than the other pricing method which runs on a percentage basis.
PEO/EOR companies fix this monthly fee based on the range of services they provide, generally, they fix this price between $199 to $1499 per month. In exchange, they take care of employee payroll, attendance, timesheets, leaves, benefits, and compliance.
2. A fixed percentage over monthly payroll cost
In this method, PEO/EOR platforms charge a markup percentage on employee monthly payroll costs. In this fixed percentage method, the payroll fee of each employee is different as it relies on the salary package of the employee.
With little research, you will get to understand the range of pricing percentages in the prevailing EOR market, which falls around 15% – 40%. It looks affordable when you calculate the exact price based on the salary package of entry level employees, but it proves expensive when you apply for senior-level positions. And it increases every year assuming that there will be yearly appraisals, which again makes it more difficult to comprehend.
Payments, billings and statutory deductions
Billing for both the above discussed methods generally takes place during the beginning/middle/end of every month depending on the employee's location and mutually agreed salary date. Most of the PEO/EOR companies prefer to take at least one month's payroll cost in advance to ensure employees get their salary on time without any delays.
Companies have to pay this sum to EOR platforms in one agreed currency, upon receiving the payment, EOR platforms ensure that the employees get their salary in their local currency and the government-imposed taxes are paid with due diligence. They also ensure that all kinds of mandatory pension/retirement funds get credited to respective accounts. At the end of the employment period, EOR platforms check if the employee is fully paid/settled and performs a smooth offboarding.
Pricing for additional services
Apart from standard payrolling services, PEO/EOR companies extend their service range depending on the requirements of their clients. Pricing will be adjusted as companies avail additional services such as sourcing, benefits that aren't there in standard employee benefits package, shares/funds or any other savings plan to impress employees, software/hardware logistics, desk/office space for employees etc.
But not every EOR company is having such a wide range of additional services, most of these platforms focus on payroll and compliance. There are very few EOR platforms like Global Squirrels that are genuinely trying to bring all the services under one roof to ensure businesses have a smooth ride hiring international talent.
Additional services at Global Squirrels
For sourcing qualified talent, Global Squirrels charges companies a one-time recruitment fee of $1499. Companies have to pay this one-time fee only after the candidate's 3-months successful employment tenure. If companies want to provide desk space for their employees to work from, they can elect Global Squirrels Blue Squirrels Plan at $449 per month which offers a co-working space along with employee payroll services.
To understand more about Global Squirrels' pricing and the range of additional services, please schedule a demo on our website.